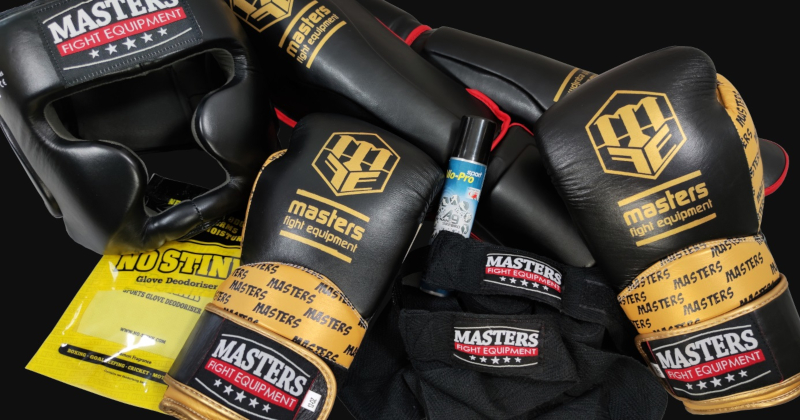 General equipment maintenance
We all know that in order for equipment to serve us for a long time, we need to take care of it regularly and maintain it.
Maintenance is very simple and will not take too much time. Equipment regularly maintained and cleaned will serve us longer and we will put it on with pleasure, because it will not emit an unpleasant smell.
Here is some basic information on equipment maintenance.
Boxing gloves, mma gloves, free fight gloves, point fight gloves, and instrument gloves all have similar maintenance rules. Natural leather is treated differently from synthetic leather. Follow the link provided for more information.
Boxing helmets - it is very important to maintain them systematically, which will translate into a longer life and better comfort during training. You can find more information at this link.
Protective equipment such as mouth guards, bandages, elastic pads, trunk protectors, crotch protectors, tibia protectors or foot protectors.
The mouth guards should be cleaned with running water before and after each workout, and you can also use commercially available denture disinfectants. We recommend replacing the pads every 3 months for hygienic reasons.

Boxing bandages should be washed and dried after each training session. The bandages should be hand washed in warm water (not hot) with soap, after washing they should be rinsed and dried.
Below we present instruction on tying bandages led by Iwona Nieroda
Elastic protectors should always be selected according to the manufacturer's size chart. A protector that is too tight or loose may be damaged more quickly. If the protector is dirty, clean it with a clean cloth, lukewarm water and soap. After cleaning, wipe the pad and leave it to dry completely. Remember to always leave the protector in a ventilated place until it dries completely.
Trunk protectors. The pads can only be put on or taken off when the Velcro straps are fully undone. Maintenance of the pads is the same as for synthetic leather products. First, clean the pad with a clean cloth and lukewarm water and soap. Then wipe the pad dry with a cloth and leave it in a ventilated place to dry completely.
Crotch protectors: can be made of different materials e.g.: model S-20 is made of polyester 65%, cotton 25%, rubber 10%. For this protector you can take out the plastic insert and machine wash the protector according to the washing instructions on the product. The other protectors are lined with synthetic leather, which we preserve in the following way: first clean the protector with a clean cloth with lukewarm water and soap. After cleaning, wipe the pad dry.

Foot and tibia protectors. Both types of protectors are treated similarly. For more information on how to preserve your boot, follow this link.
Depending on the model, foot protectors can be made of various materials, e.g: OSK-1 are made of natural leather, in this case we start with cleaning the protector with a clean cloth with lukewarm water and soap, then we wipe the protector dry. After wiping the protector, apply a cream, e.g. petroleum jelly or a leather preservative. It is important to apply the cream only on the top part of the protector. Wait until the cream is absorbed by the leather. The OSPU-1 model is made entirely of synthetic leather, in this case you only need to clean it with a clean cloth with lukewarm water and soap. After cleaning the protector, wipe it dry with a clean cloth. Every time you clean the pads, be careful not to get them wet. It is important not to remove the pads without undoing the Velcro strap; the strap should always be undone when putting on or taking off the pads. The protector should be gently slid off the foot. Attempting to remove the protector by force may result in damaging it.

Workout clothes: Each type of material requires different treatment. Information about washing can be found on the tag which is sewn to the garment or on a sticker on the package in which the garment is packed.
Kimono: you should wash karate kimono differently from judo kimono and kimono belts. Detailed information on washing can be found on the tag which is sewn to the kimono or on a sticker which is stuck on the kimono packaging.
Shields, paws, trowels: These products are made of two types of material: natural leather and synthetic leather. Natural leather should be maintained once a week in the following way:
First, we wipe the product in question using a clean cloth with a bit of linen water and soap. After cleaning, wipe the product dry and apply a cream on it, e.g. petroleum jelly or a leather preservative. Synthetic leather is cleaned with a clean cloth and a bit of lukewarm water and soap, and wipe the product dry.
Balls and Pears: Balls made of natural leather or synthetic leather should be inflated in the same way. Before pumping and deflating, use a pump with a pumping needle. The needle must always be moistened with glycerine or soap diluted in water. Soft Weights made of leather or synthetic leather shall be treated in the same way as pads made of leather or synthetic leather. Soft Weights should not be hit against hard surfaces such as floors or walls.
It is important to note that the maximum ball pressure is 0.6 bar.
Below is an instruction on how to inflate the balls correctly:
Boxing bags and bag accessories.
Boxing bags made of natural leather should be maintained in the same way as other leather equipment. Plavil bags can be cleaned with a cloth and a bit of soap and lukewarm water. After that, wipe the bag dry.
If the bag is compacted and lacks filling at the top, it needs to be refilled. Sacks are filled with fabric scraps, leather scraps. In order to fill the bag properly, it must first be emptied. The filling that was taken out of the bag must be mixed with the new one. After this operation you can put the filling into the sack, remembering to whisk it each time you put it in.

Bag accessories such as hangers or hooks should be checked regularly, e.g. if the fastenings do not loosen, or if the product needs to be replaced due to wear. Bearings should be lubricated if required.
You should maintain training accessories such as skipping ropes, pull-up bars, boxing platforms and training clocks as follows.
Skipping ropes should be kept stretched (hanging) after each workout so the rope can straighten out and not be twisted. If the skipping rope is equipped with a bearing, it should be lubricated regularly, e.g. once a week. Skipping ropes with a thong, or more precisely the thong itself should be lubricated with cream (Vaseline).
Pull-up bars and boxing platforms. Before each workout, check the fastenings for loose screws; if any screws are loose, tighten them with the appropriate wrench.
Workout clocks. The timers should be charged only with the power adapter that is included in the set. Under no circumstances should you use any other power adapter which may have a different voltage and will damage the clock's electronics.
Boxing shoes. Boxing shoes must not be used for purposes other than those for which they were designed. The shoes must not be used to train on concrete surfaces, which can quickly damage the soles. The shoes should only be put on and taken off when the laces are untied so that the shoes can easily slip off the foot. Under no circumstances should you pull the shoes off using your other foot (toe heel).
---